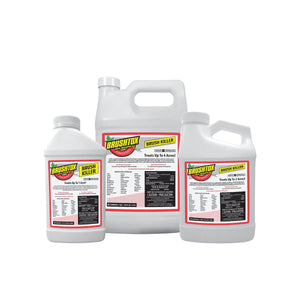 Brushtox Brush Killer with Triclopyr
Brush Aside Invasive Plants And Weeds
Arm yourself with our newest weapon in the fight against more than 60 woody plants including mesquite, oaks, locust, wild rose and sweetgum and 30 tough broadleaf weeds like Canada thistle and dog fennel. See label for complete list of weeds.
Brushtox is a concentrated herbicide that works both economically and effectively on rangeland, permanent grass pastures, fencerows, ditch banks and rights-of-way on acreage large and small. It may be applied to woody or herbaceous broadleaf plants as a foliar spray or as a basal bark (spraying trunk) or cut stump application to woody plants. 
ACTIVE INGREDIENTS:
| | |
| --- | --- |
| Triclopyr: 3,5,6-trichloro-2-pyridinyloxyacetic acid, butoxyethyl ester | 61.6% |
| Other Ingredients | 39.4% |
| Total | 100.0% |
WHERE TO USE:
| | | |
| --- | --- | --- |
| Rights-Of-Way | Industrial Sites | Non-Crop Areas |
| Non-Irrigation Ditch Banks | Forests | Wildlife Openings |
| Rangeland And Permanent Grass Pastures | Conservation Reserve Program (CRP) Acres | Fence Rows |
| Non-Irrigation Ditch Banks | Ornamental Turf | Cut Stumps |
WHEN TO USE:
The timing of a Brushtox application is critical to achieve the best results. Use tools like the USDA Planting Zones Guide for temperature and weather conditions for application timing to achieve optimum control of your woody plants or broadleaf weeds.
Optimal control is achieved when woody plants and weeds are actively growing. On difficult to control species such as ash, blackgum, choke cherry, elm, maples, oaks, pines, or winged elm or when applying in late summer when the plants are mature and during drought conditions, use the higher label rates.
For cut stump and basal bark treatments, apply at any time of year, including the winter, unless snow or water prevent spraying to the ground line.
---
We Also Recommend