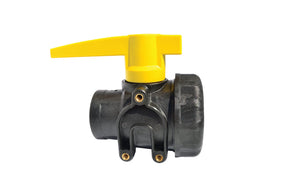 Green Leaf Ball Valve 2″ Female NPT; Full Port 4 Bolt
The polypropylene Single Union Ball Valve by Green Leaf is designed for fluid flow applications on equipment that transfers fluid like sprayers, pumps, hoses, bulk tanks and many other applications.

Green Leaf ball valves have been designed for commercial usage. All Green Leaf bolted valves maintain great chemical resistance and are made from high strength custom blended fiberglass filled polypropylene with Teflon™ seats and stem bushings for smooth operation, and use stainless steel bolts and nuts making them corrosion resistant. Replacement parts and accessories for our ball valves include straight mounting bracket, 90 degree mounting bracket, and replacement handles.
All of our ball valves have 1/4 turn open and close. All bolted ball valve balls are diamond turned after molding, making it spherically perfect which provides precise contact between the ball and seats.

Green Leaf ball valves are Made In America and pledges to be committed to its distributors and the agricultural market by developing new products, providing quality product assurance, and delivering superior customer service.

Can't find what you're looking for in our fitting line? No worries, we make custom parts as well! Let us use our expertise to help you make the right choice. We have been producing high quality valves, couplings, fittings and parts for the commercial Ag industry for over 4 decades.

Green Leaf is an ISO 9001 certified company and pledges to bring its "Fluid Flow" expertise in product engineering, manufacturing, distribution and customer service to its diverse line of quality parts and to deliver the right part, on time and at the right price.