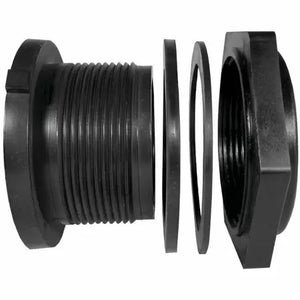 Green Leaf Tank Fitting, 1/2 in, FPT, Polypropylene
The Bulkhead and Tank Fitting by Green Leaf including Outlet Flange and Inside Bolt Seal Double Seal Flange are manufactured in a variety of sizes ranging from 1/2" to 4". Our Bulkhead fittings come in both nylon and polypropylene.

Our nylon bulkhead fittings with a female NPT are both NSF61 and NSF372 certified, and are offered with both a Buna and EPDM gasket. The polypropylene bulkhead fitting is also available with a female NPT with both a Buna and EPDM gasket.
The polypropylene outlet flange comes with a female NPT full port, and the polypropylene inside bolt seal double seal flange is full port as well.

Green Leaf fittings and flanges are utilized for a variety of agricultural, plumbing and industrial liquid-handling solutions. All Terre Max fittings and flanges are highly durable and chemical resistant, our resin is a high strength custom blended glass filled polypropylene.

Let us use our expertise to help you make the right choice, we have been producing high
quality fittings for over four decades. Green Leaf fittings and flanges are Made In America and pledges to be committed to its distributors and the agricultural market by developing new products, providing quality product assurance, and delivering superior customer service.

Green Leaf is an ISO certified company and pledges to bring its "Fluid Flow" expertise in product engineering, manufacturing, distribution and customer service to its diverse line of quality parts and to deliver the right part, on time and at the right price.
---
We Also Recommend